BUSD is...
BUSD is a regulated, fiat-backed stablecoin linked to the U.S. dollar. For every BUSD unit, there is one U.S. dollar held in reserve. This means that the BUSD supply is pegged to the U.S. dollar at a 1:1 ratio. Their holders can trade their tokens into fiat money and back again Paxos, the token issuer, publishes BUSD reserve reports every month. Moreover, BUSD is a Stablecoin, which is not subject to volatility.  Its benefits include cheap and fast transactions.
What exactly do we call BUSD?
BUSD is developed by companies such as Paxos and Binance. Paxos is a New York-based financial and technology company specializing in blockchain. The organization uses tokenization, storage, trading and asset settlement technologies for corporate clients. Previously, they also developed a gold-backed stackable token called PAX Gold (PAXG). BUSD and PAXG tokens are regulated by the New York State Department of Financial Services (DFS).
Formally, BUSD is a fiat stablecoin, which is backed by a peg to the U.S. dollar. A quantity of U.S. dollars equivalent to the total supply of BUSD is held in Paxos, acting as reserves in FDIC-insured U.S. banks or backed by U.S. Treasury bonds. The BUSD price also fluctuates uniformly when the U.S. dollar rises or falls. This is the most standard and most popular stablecoin model.
BUSD provides transactions with three key attributes: availability, flexibility, and speed. You can easily get a token through Paxos or Binance. You can buy them through an exchange or send a dollar amount to Paxos to mint new BUSD tokens.
BUSD is also flexible, giving cryptocurrency users the right to quickly convert their holdings into a stable asset without leaving the blockchain. As a result, with BUSD, users can send money worldwide very quickly with low fees.
What does BUSD do?
Compared to some other types of stablecoins, the principle of maintaining a BUSD peg is relatively simple.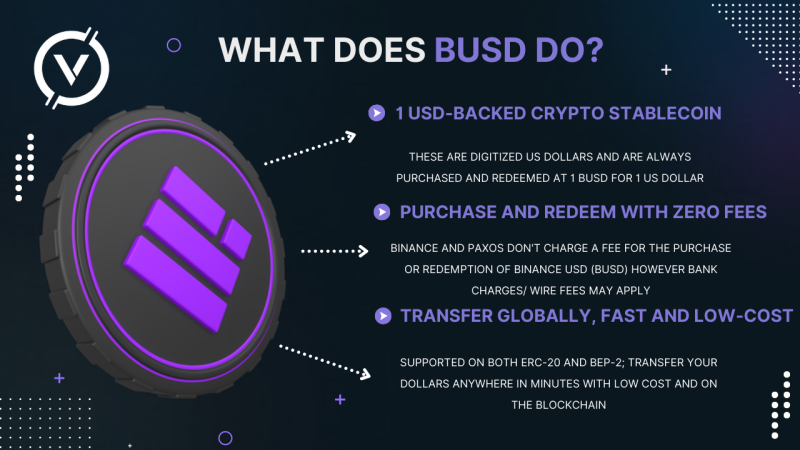 Each BUSD token you can exchange for $1 from reserves and back.
They burn your tokens and return the fiat currency to you when you send BUSD to Paxos. This mechanism maintains a constant supply to reserve ratio of 1:1.
As soon as the price of BUSD falls below $1 per BUSD, arbitrager traders buy BUSD in large numbers. Even a price of $0.98 can be a profit opportunity.
By buying large quantities of BUSD, arbitrager traders then convert BUSD tokens into fiat money through the Paxos platform.
Increased demand for BUSD naturally raises the price of tokens back to $1, restoring the 1:1 peg.
How is the work of BUSD regulated?
New York state regulators have imposed special measures on how Stablecoin must operate. As well as fully providing the token with dollars, Paxos must control the token creation and burning strictly. Paxos also has the right to block accounts and seize funds if necessary to combat illegal activity. All of these principles are consistent with the Trust Charter and New York banking laws as applied to Stablecoin.
A new feature has been built into the token's smart contracts to reflect the regulation of Stablecoin: SetLawEnforcementRole. This small piece of code enables Paxos to take advantage of the above features to maintain NYDFS regulations.
These features apply to BUSD issued by Paxos on Ethereum. Binance-Peg BUSD acts under different rules, is not issued by Paxos and is not regulated by NYDFS.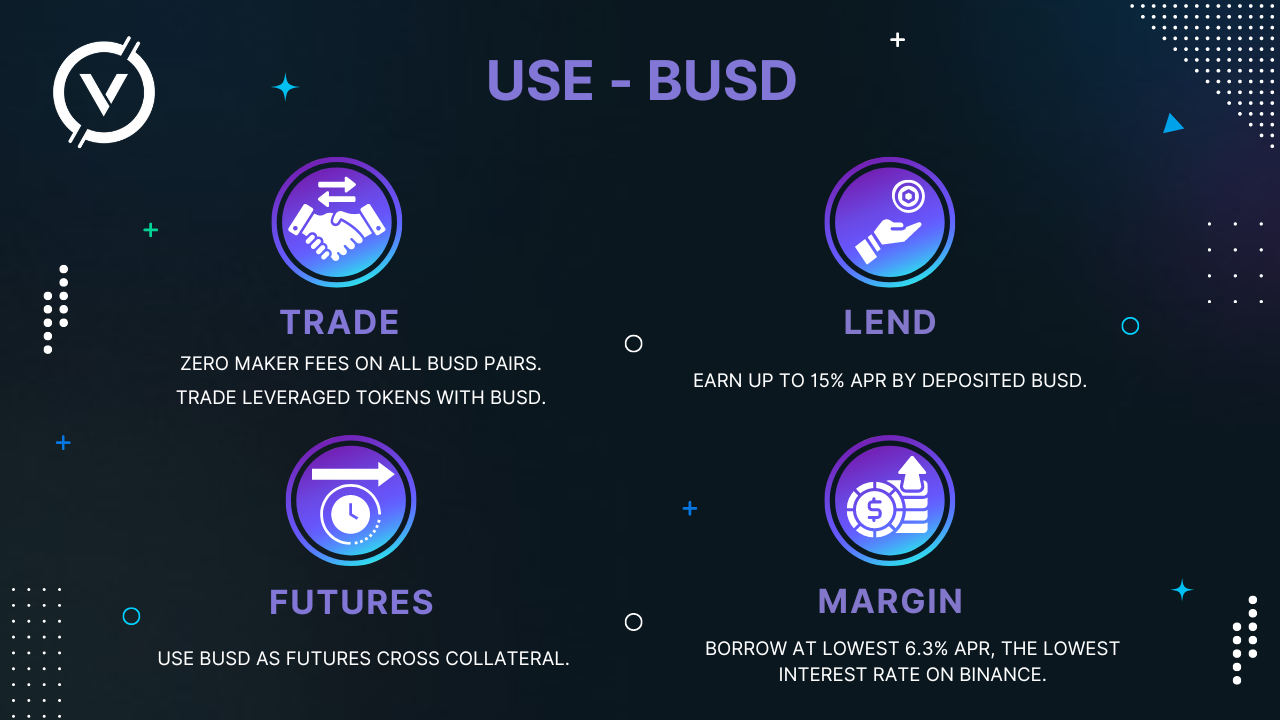 BUSD and Binance-peg BUSD have many uses for traders and investors.
Avoid price fluctuations in the cryptocurrency markets
The crypto ecosystem can become very volatile.As in the classic financial markets, stable assets are in demand in the world of cryptocurrencies, often when the market is highly volatile. Investors can wait out a volatile period while converting assets into fiat or securities. BUSD and Binance-Peg BUSD offer both crypto investors and traders identical advantages.
Fixing profits without the need to convert into fiat money
When someone wants to get out of an investment and protect their profits, With BUSD and Binance-Peg BUSD there is a way to get out of an investment and protect your profits. You do not need to wait for the fiat funds to be transferred to your bank account from the exchange. When choosing a new position or buying another asset, you also don't have to wait for new fiat funds to be deposited into your account.
Both BUSD and Binance-Peg BUSD are widely used stable coins in their networks and BNB Chain Automated Market Makers (AMMs). These liquidity pools can provide arbitrage possibilities when prices vary between different AMMs. Ownership of BUSD and Binance-Peg BUSD allows arbitrager traders to move quickly between exchanges and take advantage of the broad acceptance of BUSD and Binance-Peg BUSD on different platforms. Arbitrage opportunities can also open up when buying BUSD and cashing it out for fiat money.
How does BUSD differ from other stablecoins?
What makes BUSD different from other stable coins on the market is the following factors. First, BUSD belongs to the category of fiat stablecoins.Other cryptocurrency stablecoins exist that use crypto assets for their reserves, for example DAI.
There are also algorithmic stable coins. These are digital tokens whose value is tied to the price of fiat currency, but does not require collateral of any assets.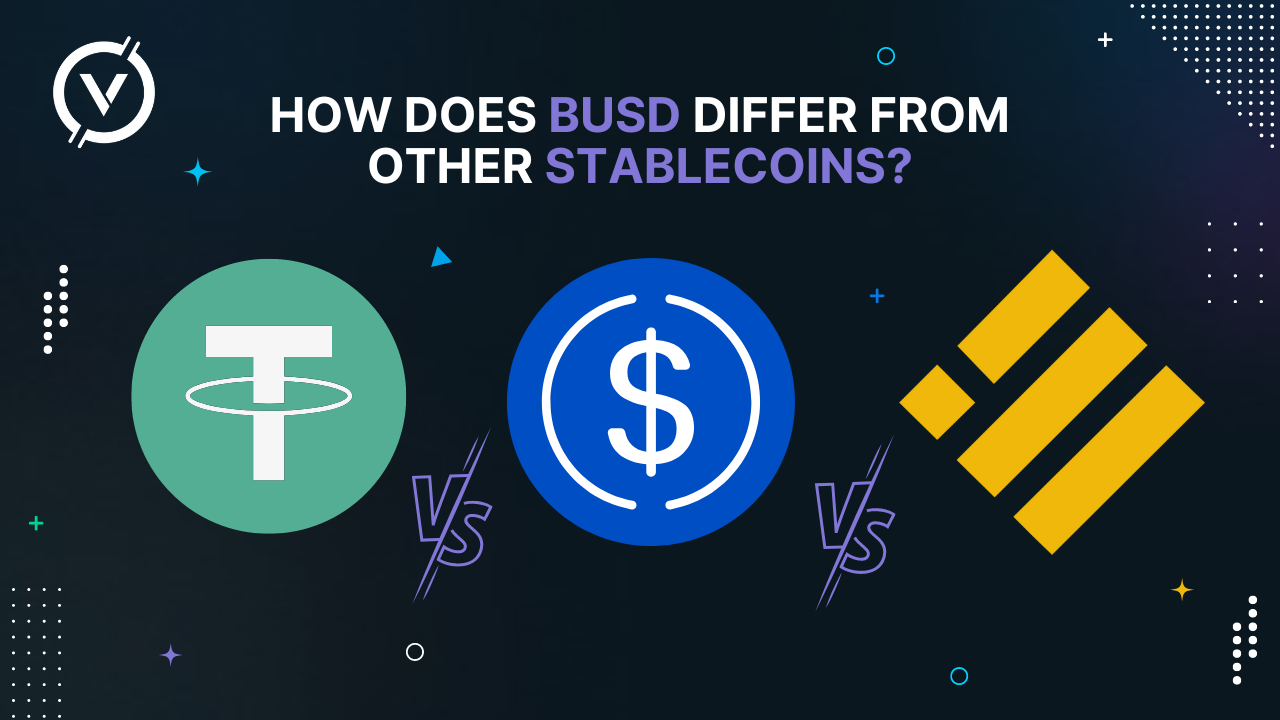 But how is BUSD different from other fiat-backed stablecoins? One of the key points is that Paxos regularly publishes audited data showing that U.S. dollar reserves match the BUSD supply 1:1. These audits are conducted in conjunction with the accounting firm Withum.
Where can I buy BUSD?
First of all, it is worth noting that there are several ways to buy BUSD. Probably the easiest way to note is the exchangers, because you only need to select the direction of the exchange, fill out the form and execute the operation. Also, you can exchange another cryptocurrency or fiat on the exchange.
There is another way to go to AMM and exchange another coin or token for BUSD or Binance-Peg BUSD in the liquidity pool.In addition, you can go to the Paxos website and convert U.S. dollars into BUSD instead. Paxos will accept your fiat money, put it to reserves, and then mint new coins.
Final Thoughts
BUSD is a stable investment for traders. The high degree of reliability of a coin is due to its regulated status and audited reserves stored in reliable financial institutions. BUSD is well suited for trading on the crypto markets, and pairs with it often have high liquidity.