What Is Metaverse?
A metaverse is a picture of a permanent, online, 3D universe. Metaverse combines several different virtual spaces. This concept can be seen as a new iteration of the Internet. The metaverse will provide the user with ample opportunities for collective communication, collaboration, meetings, games, and other activities in these 3D spaces.
The metaverse is not yet fully formed, but some platforms already have elements that resemble the metaverse. Video games currently give as close a sense of the metaverse as possible. Developers have gone beyond game boundaries by creating in-game events and a virtual economy.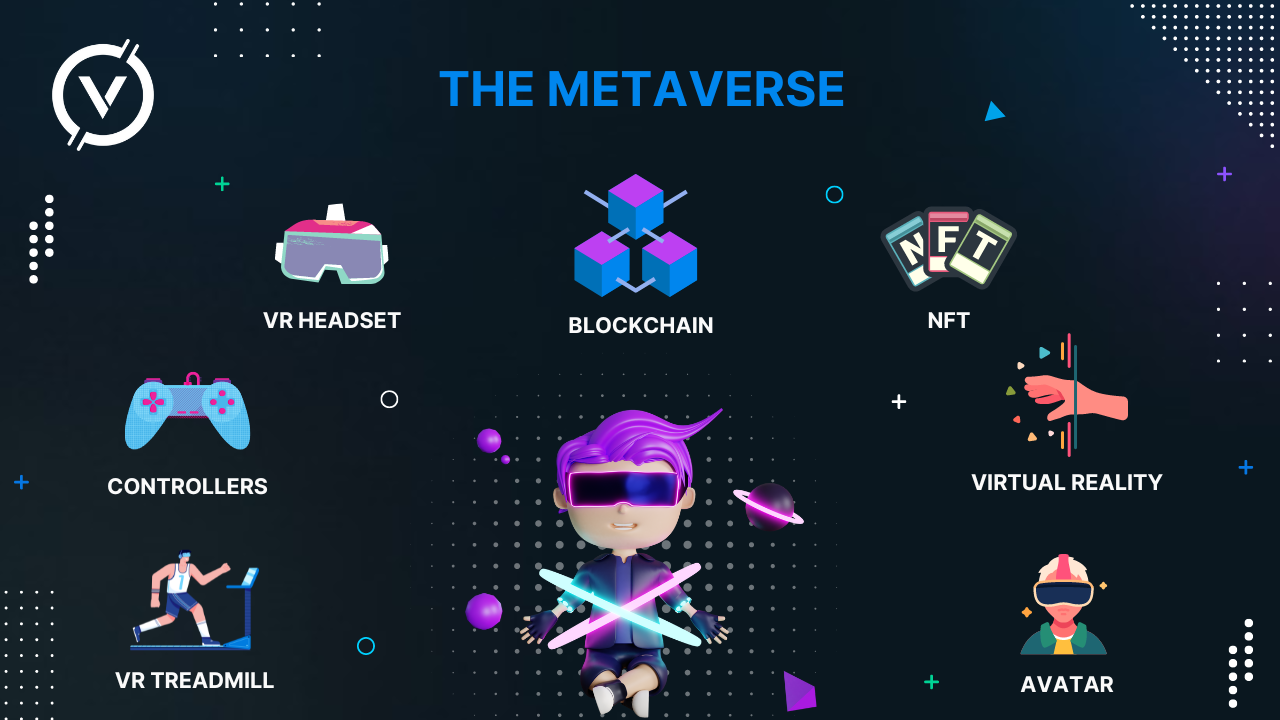 Cryptocurrency can work perfectly for the metaverse because it allows you to form a digital economy with different types of utility tokens and virtual collectibles (NFT). In addition, metaverse will take advantage of the use of cryptocurrencies such as Trust Wallet and MetaMask.
There are already applications like blockchain and metaverse that bring people income. Axie Infinity is a game with which many users generate additional revenue. SecondLive and Decentraland are platforms that have succeeded in combining the world of blockchain and virtual reality.
Speaking of the future, the big tech players are trying to be the leaders. At the same time, the decentralized nature of the blockchain industry allows smaller players to take part in the development of the metaverse.
What is the meaning of the metaverse?
Generally, this refers to online spaces that allow users to interact with each other in an immersive 3D environment. Unlike the conventional Internet, metaverse users can interact with other users through their virtual reality avatars, as in a video game. This space connects many platforms, like the Internet, where different sites are reached through one browser.
Generally, this refers to online spaces that allow users to interact with each other in an immersive 3D environment. Unlike the conventional Internet, metaverse users can interact with other users through their virtual reality avatars, as in a video game. This space connects many platforms, like the Internet, where different sites are reached through one browser.
The idea was developed extensively in Neal Stephenson's science fiction novel Snow Crash. Nowadays, although the idea of a metaverse once seemed like science fiction, it looks like it may become our reality in the future.
To give you an example, you can use the Oculus VR headset right in your virtual office to hold a meeting in mixed reality. In the metaverse you can also play for example if you want to relax and manage your finances with the help of blockchain.
You can already see some manifestations of the metaverse in today's virtual video games. For example, Second Life, Fortnite, or work meeting platforms (such as Gather.town) combine several areas of our lives in their online worlds. These apps are like a metaverse, although they are not: a full-fledged metaverse does not yet exist.
Some aspects of the metaverse already exist in modern video games, but in addition to games, the metaverse will also incorporate economics, digital identity, decentralized governance and other functions. Already creating users and owning valuable items and currencies helps to create a unified metaverse. All of these features provide blockchain with the potential for this technology of the future to work.
Why are video games related to the metaverse?
Video games, due to their particular focus on 3D virtual reality, are the closest example to the metaverse today. However, it is not only that they are 3D. Video games today provide services and opportunities that intersect with other areas of our lives.The Roblox video game even has virtual events such as concerts and meetings. Users don't just play the game, they use the game for other purposes and other aspects of their lives in "cyberspace." For example, in the game Fortnite, 12.3 million players became participants in Travis Scott's virtual in-game music tour.
How is cryptocurrency introduced into the metaverse?
Games can create a 3D metaverse, but can't provide it with everything it needs to fully interact as it does in life. Cryptocurrency, which provides digital proof of ownership, transfer of funds, management, and accessibility, can complement them in this.
In order for us to be able to work, communicate, and even buy virtual items in the metaverse in the long run, we must have a safe and reliable way to prove ownership. We also need to have security in the transfer of these items and money in the metaverse. Moreover, we will want to be able to participate in the decisions that take place in the metaverse if it takes such a significant place in our lives.
Some video games already have some basic solutions, with many developers using cryptocurrencies and blockchain as a better way. Blockchain is a decentralized network that can be configured as a transparent database visible to all participants, while video game development is more centralized.
A blockchain game is a game in which part or all of the gameplay takes place directly in the blockchain. Gamification is characteristic of Decentralized Finance (DeFi) and GameFi. The connection between the video game market, cryptocurrencies, and blockchain technology is about to become inextricable. Cryptocurrencies are being created for the cybersport industry, the VR and XR markets, and various gaming applications.
The key components of a blockchain suitable for a metaverse are as follows:
1. Proof of digital ownership
A wallet owner with access to his or her private keys can immediately prove ownership of blockchain transactions. For example, you can provide proof of ownership of your blockchain transactions at any time. The wallet is one of the most reliable and secure tools for establishing digital identity and proving ownership.
2. Ability to collect digital data
In the same way that one can establish exactly who owns an item, we can also prove that the item is authentic and unique. For a metaverse in which more real life is planned to be introduced, this is very important. Using NFTs, we can develop objects that are 100% unique and cannot be copied exactly the opposite, nor can they be tampered with. Blockchain also presents an opportunity to formalize ownership of land and real estate.
3. Another important factor needed for the metaverse
It is the ability to transfer value that users trust. In-game currencies in multiplayer games are less reliable than blockchain-based cryptocurrency. If a user spends a long time in the metaverse and even earns money there, they need a secure currency.
It is also important for users to be able to control the rules of interaction with the metaverse. Users will desperately need the ability to exert complete control over the rules of interaction with the world of the metaverse. In reality, people can influence decisions, elect leaders and members of the government through voting rights. The metaverse will also require such functions, and blockchain is the perfect tool to help in this matter.
The creation of a wallet can be accessed by anyone around the world on open blockchains. Compared to a bank account, you don't have to pay money or disclose any data. This makes the wallet one of the most convenient and affordable ways to manage your finances and digital identity online.
Within blockchain technology, compatibility between different platforms is constantly growing. Projects such as Polkadot (DOT) and Avalanche (AVAX) are creating their own blockchains that can interact with each other. A lot of different projects will be needed to create a single metaverse, and blockchain is a must.
What is a metaverse job?
The main purpose of the metaverse is to combine as many aspects of daily life as possible. It will not only allow you to find a profitable way to make money from the comfort of your home, but also to immediately spend the resulting income on quite real and useful things.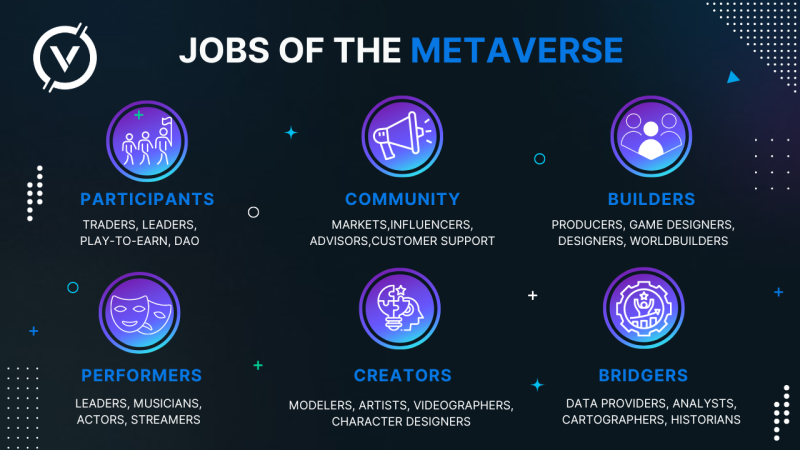 In the meta universe, you can interact with objects as a virtual 3D avatar.
You will be able to watch a movie on Netflix in a virtual room with your friends' avatars and simultaneously communicate on social networks or even order a pizza.
In the meta universe you can work, study, communicate with friends and family, meet new people, buy virtual items and even open a business, all without leaving home.
The GameFi and play-to-earn models are now generating a steady income for people all over the world.
This kind of online work is a great option for introducing a metaverse in the future, because it shows that people want to spend their time playing and earning in virtual worlds.
Play-to-earn games like Play-to-earn games such as Axie Infinity and Gods Unchained don't even offer 3D worlds or avatars. Nevertheless, they are the ones that can become part of the metaverse because of the way you can earn money exclusively in the virtual world.
Examples of a Metaverse
Although the metaverse does not yet exist, you can find many platforms and projects that resemble the metaverse. Some projects use NFT and other blockchain elements. Let's look at three examples: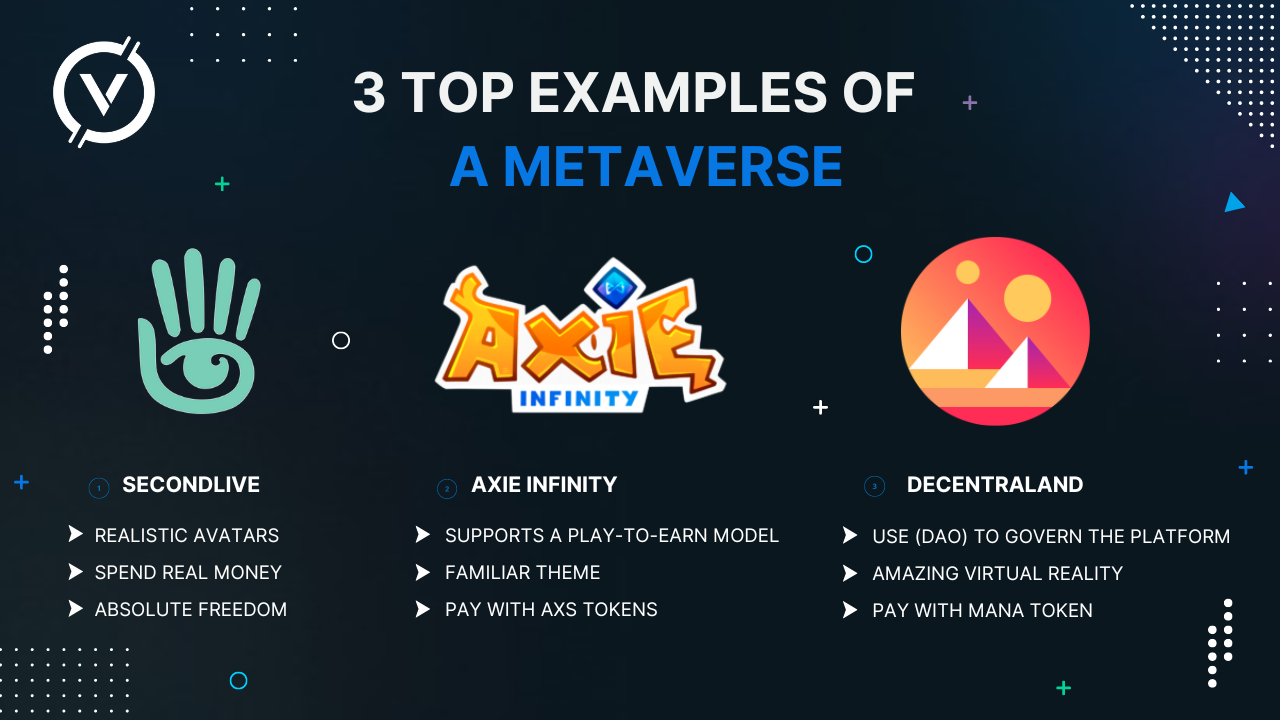 SecondLive
SecondLive is a 3D virtual world in which users control personal avatars while sitting at their PC monitors. At the same time, the concept of an ideal metaverse requires complete immersion in a virtual world.
Second Live lacks such an option. The project also has an NFT marketplace for sharing collectibles. And the game also promoted an early version of the NFT - offering to create, sell and buy unique game items.
The virtual exhibition presented different projects from the BSC ecosystem which users could examine.
Axie Infinity
Axie Infinity is a game that can be played to make money. By purchasing or being gifted three creatures called Axies, the player is given the opportunity to earn a Smooth Love Potion (SLP) token.
By selling it on the market, the player can earn between $200 and $1,000, depending on the number of games and the market price.
Axie Infinity doesn't give you a separate 3D character or avatar, but it allows users to get a job in the metaverse. You already know the story of how Filipinos used it as an alternative to a permanent job or social security.
Decentraland
Decentraland is a decentralized virtual reality platform. The project is based on the Ehtereum. blockchain network, and all operations and transactions are performed using smart contracts.
Virtual real estate in the game is NFT, which you can buy with the cryptocurrency MANA. On the platform you can create a 3D environment, communicate with friends, play games, hold exhibitions and much more.
In addition, NFTs are used for LAND, land plots measuring 16x16 meters, which users can purchase in-game for MANA cryptocurrency. Through it all, a very complex crypto-economy emerges.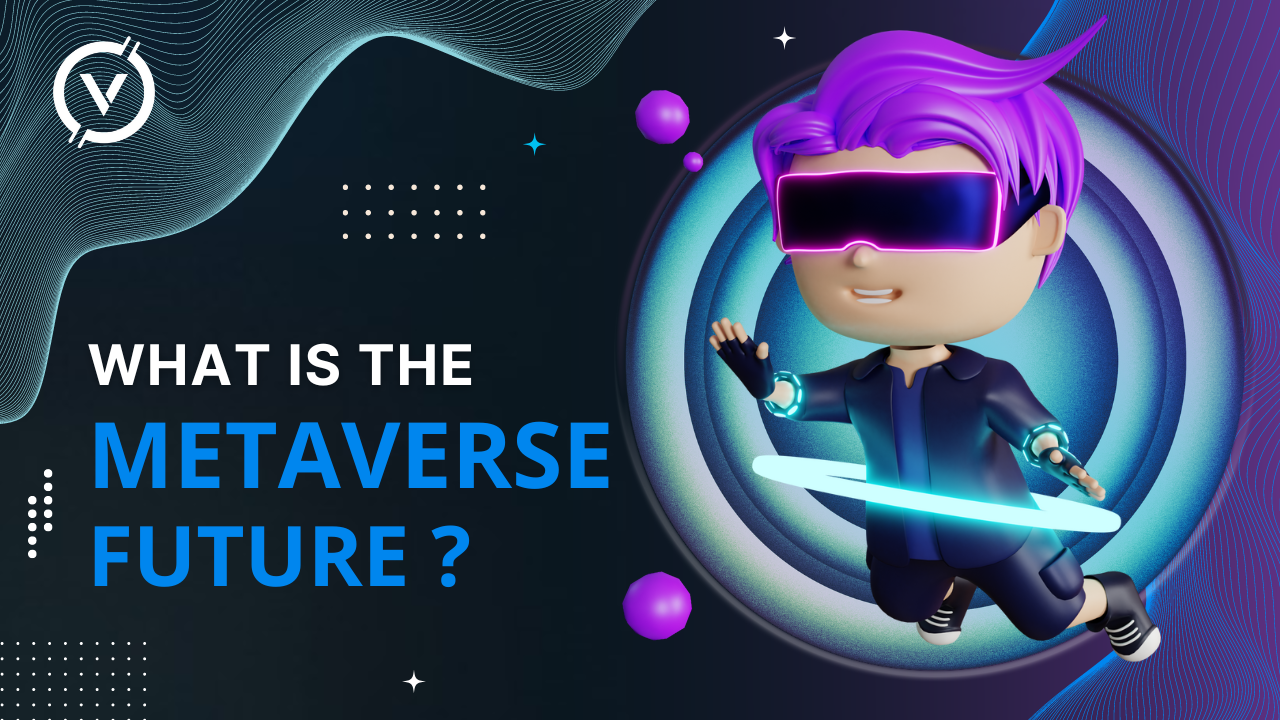 Facebook - support the creation of a single metaworld. Facebook CEO Mark Zuckerberg is an active supporter of the social network's transition to a meta-universe company, for which Facebook is actively investing in AR and VR technologies, offering the opportunity to control its own hardware platform. Even major technology companies such as Microsoft, Apple, and Google are also not opposed to the creation of a metaverse.
The metoverse will soon be linked to NFT marketplaces and 3D virtual universes. NFT are sold on special marketplaces, which operate on the principle of the Internet-shop: the creators of NFT tokens posted on the trading platforms and waiting for offers from buyers, but there is no popular 3D-platform for this.
Final Thoughts
While there is obviously still a long way to go before a single, shared metaverse is created, nevertheless, we can already observe developments that could create it. This could be one of the examples of the use of blockchain technology and cryptocurrencies. Whether a metaverse will ever really be created is unknown. Blockchain will continue to evolve and increase its presence in everyday life in the coming years.